File under "things that piss whatsername off"
From
The Guardian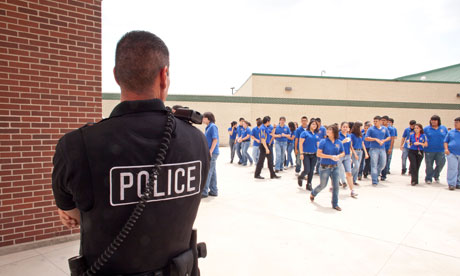 A few highlights:
The charge on the police docket was "disrupting class". But that's not how 12-year-old Sarah Bustamantes saw her arrest for spraying two bursts of perfume on her neck in class because other children were bullying her with taunts of "you smell".

"I'm weird. Other kids don't like me," said Sarah, who has been diagnosed with attention-deficit and bipolar disorders and who is conscious of being overweight. "They were saying a lot of rude things to me. Just picking on me. So I sprayed myself with perfume. Then they said: 'Put that away, that's the most terrible smell I've ever smelled.' Then the teacher called the police."
In 2010, the police gave close to 300,000 "Class C misdemeanour" tickets to children as young as six in Texas for offences in and out of school, which result in fines, community service and even prison time. What was once handled with a telling-off by the teacher or a call to parents can now result in arrest and a record that may cost a young person a place in college or a job years later.
"Zero tolerance started out as a term that was used in combating drug trafficking and it became a term that is now used widely when you're referring to some very punitive school discipline measures. Those two policy worlds became conflated with each other," said Fowler.
Children with disabilities are particularly vulnerable to the consequences of police in schools. Simpkins describes the case of a boy with attention deficit disorder who as a 12-year-old tipped a desk over in class in a rage. He was charged with threatening behaviour and sent to a juvenile prison where he was required to earn his release by meeting certain educational and behavioural standards.

"But he can't," she said. "Because of that he is turning 18 within the juvenile justice system for something that happened when he was 12. It's a real trap. A lot of these kids do have disabilities and that's how they end up there and can't get out. Instead of dealing with it within school system like we used to, we have these school police, they come in and it escalates from there."
According to the department's records, officers used force in schools more than 400 times in the five years to 2008, including incidents in which pepper spray was fired to break up a food fight in a canteen and guns were drawn on lippy students.
Chief Brian Allen, head of the school police department for the Aldine district and president of the Texas school police chiefs' association, is having none of it.

"There's quite a substantial number of students that break the law. In Texas and in the US, if you're issued a ticket, it's not automatically that you're found guilty. You have an opportunity to go before the judge and plead your case. If you're a teacher and a kid that's twice as big as you comes up and hits you right in the face, what are you going to do? Are you going to use your skills that they taught you or are you going to call a police officer?"
Read it all, there were too many priceless quotes to pull them all out.
Why can't we see that we're slowly but surely destroying ourselves with this ever-growing prison industrial complex??? Let's observe that these programs are particularly common in communities with high numbers of people of color, immigrants and poor working classes. In other words, groups of people who are already criminalized in mainstream USian discourse. Coincidence? I doubt it. Is it going to take this coming to white middle class suburbs before we take seriously how increased policing exacerbates and spreads the violence these police are supposed to be curtailing?? And if it does... by then will it be too late?